The CDN space is growing tremendously, both in overall revenue and competition.
According to, "Video CDN Revenue Will Grow to Over $1.4 Billion by 2012:"
The preliminary data shows that the worldwide video CDN revenue will be a little more than $400 million in 2008, increasing at a Compound Annual Growth Rate [CAGR] of more than 30%. As the slide below shows, we expect the worldwide video CDN revenue to grow to more than $1.4 billion by 2012.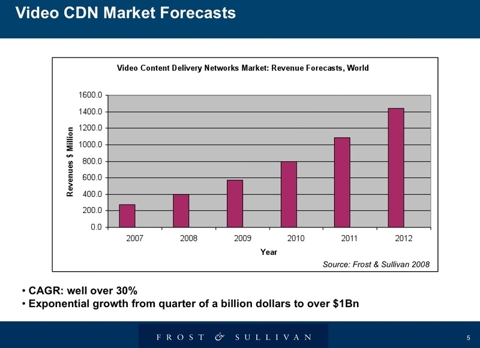 These numbers are very specific to revenue obtained for video delivery services by CDNs and does not include revenue from P2P based networks or any type of content outside of video. While the report, when released, will also break out P2P based revenue and include additional types of content like gaming, these numbers are for video delivery only. To obtain these numbers, we spoke to every major CDN provider in North America, Europe and Asia and obtained revenue numbers or guidance, from nearly every one, on what percentage of their revenue came from just video and from what region.
Here is a list of CDNs in the market, broken down between pure-play CDNs versus non pure-play vendors like carriers and telcos.

Pure-Play CDNs